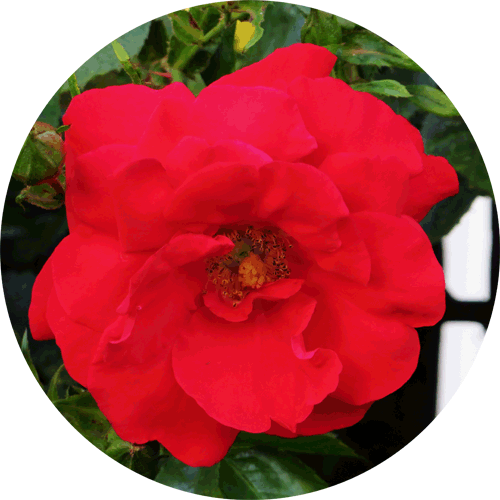 In Richard Strauss' opera, Der Rosenkavalier Baron Ochs von Lerchenau asks the Marschalin to name a knight to go on his behalf to his fiancée Sophie in order to offer a silver rose.
Restaging set in the thirties
Normally this opera is staged in a horrible rococo kitsch entourage complete with red plush, tinsel and wigs sprinkled with Eau de Cologne.  Yesterday eve I played my favourite DVD of this opera booming loud on our stereo. Herbert Wernicke's restaging is set in the thirties with a backdrop with only a few colours and supported by a fabulous cast. Take a look at this trailer
or buy this DVD if you fell under the spell of this outstanding performance.
Today I hardly can present you a rose at all. I was so involved with other jobs that I didn't notice that my roses transformed into a horrible state. Especially the leafs of the reblooming ones showed Black Spot fungus and yellow leafs. Time for drastic measurements! I removed all the affected leafs and dung them with a fertilizer.
My rose books informed me that the best time to feed your roses is after the first bloom (end of June or the beginning of July) in order to ripen the twigs before the frost sets in. In other words, I am pretty late. At the same time, most of these books were written in the eighties and still a time where you could dream of a white Christmas. Anyway, I will give it a try for I have no other choice and I hope that In three weeks time this poor creature will show some healthy leafs.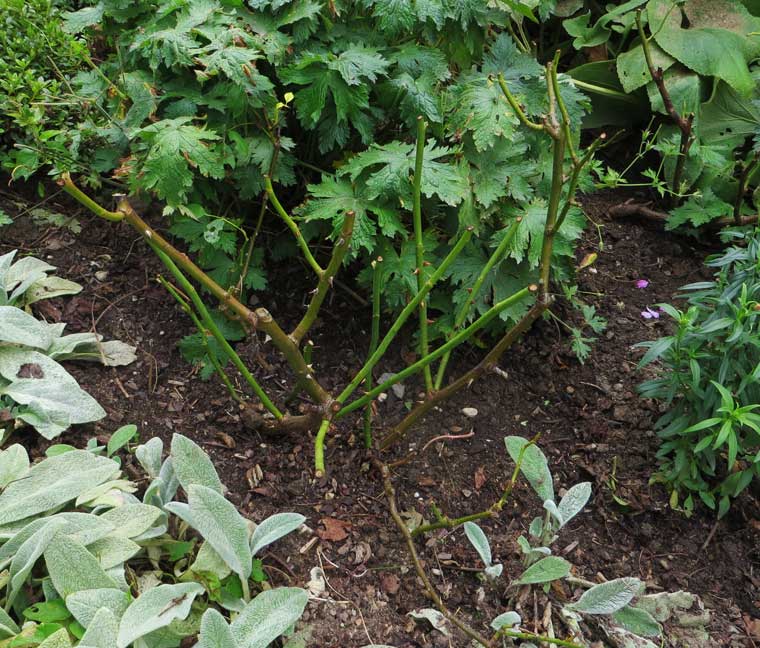 To get rid of deseases like Rust, Blackspot and Mildew, I removed all the leaves.
"On my sandy soil, it is important to keep the roses moist all the time."
The importance of watering your roses
You can spray your roses to get rid of the typical rose diseases like Black Spot, Rust and Mildew. But on my sandy soil, it is more important to keep the roses moist all the time. So my other action is to water the roses thoroughly and to regularly monitoring the soil to see if it is still moist enough. Besides fresh glossy leafs, I hope to step into the role of Octavian (Der Rosenkavalier) and offering a pretty young lady a lovely rose in the near future.